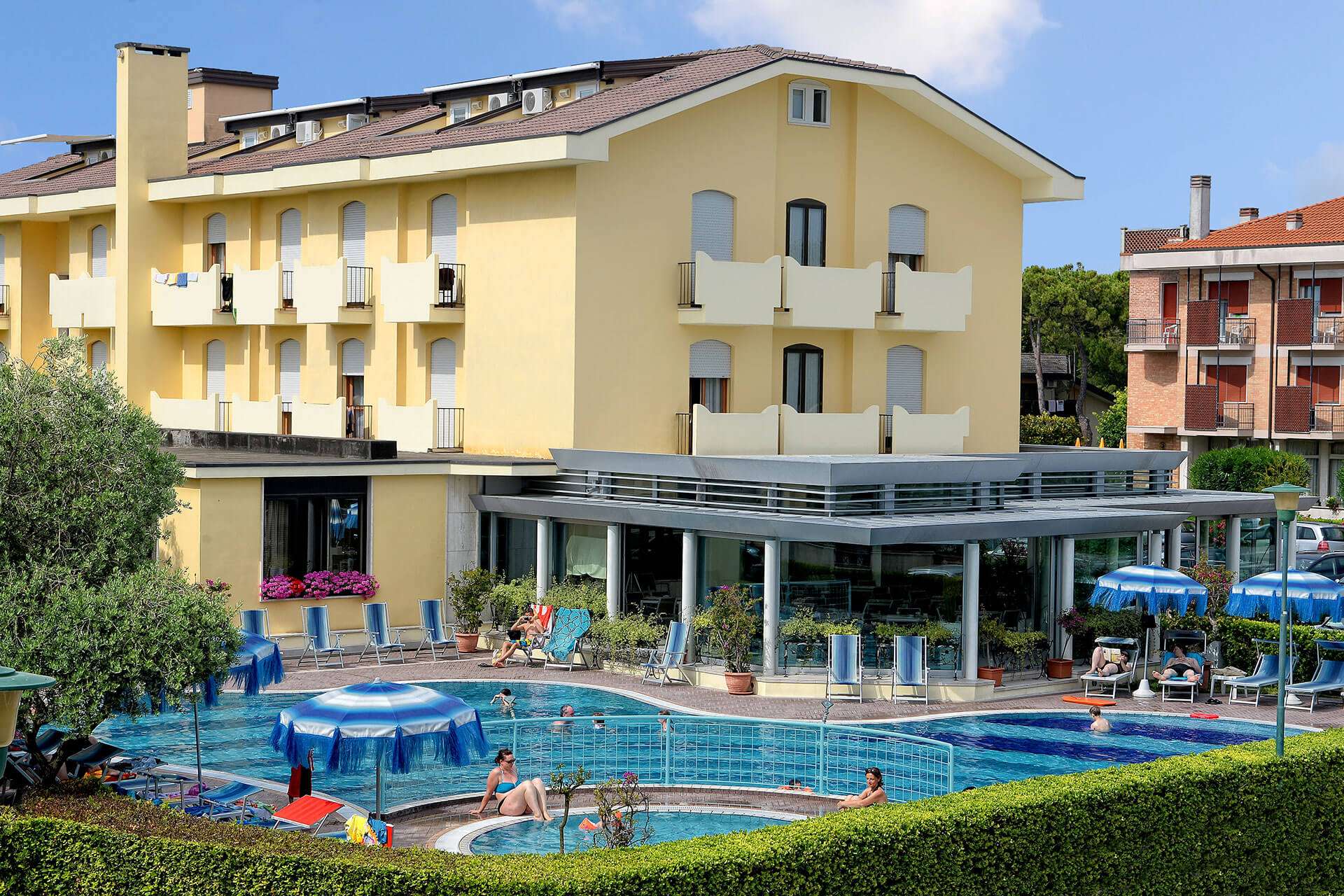 A HOLIDAY AT THE SEA FULL OF RELAXATION AND FUN
Junior Family hotel & apartments
Driven by a tradition whose roots as hoteliers goes back three generations, Famiglia Castelli has diligently hosted guests from all over Europe who have sought relaxing accommodations in a welcoming, family ambiance.
Developed in a recreational center that includes two hotels and four holiday residences, featuring all modern amenities, Famiglia Castelli offers the very best and most comprehensive services to meet your special needs, with a multitude of combinations, from room only to full board.
The services of the Junior Family hotel & apartments
Book your holiday at the Junior Family and set-off without worries! During your stay you can enjoy numerous services designed to guarantee maximum relaxation and fun… private beach, entertainment for children, sports activities and catering. It's all there!
Beach
Junior Family hotel & apartments provides sun loungers and parasols on the beach in an all inclusive rate. Guests staying at the hotel are reserved a place on the beach per room, with a parasol and two sun loungers. Guests staying in apartments for 4/5 people (two bedrooms) are reserved two adjacent places on the beach, with two parasols, two beach chairs two sun loungers.
Entertainment
As of this year, in partnership with "Non solo tata", the hotel offers entertaining activities for children aged 3 to 10 years. Two hours will be dedicated every Tuesday, Wednesday and Thursday afternoon to our young guests in the hotel's garden or covered terrace. This service is accompanied by animation on the beach organized both young and old by the Ca' di Valle hotel consortium. A wave of fun and games for everyone!
Pool
Enjoy full relaxation during your stay at the Cavallino. The Hotel Junior has a private pool with sun loungers and parasols for the hotel's guests. The pool area features a bar for quick snacks, coffee, cold drinks, ice-cream and aperitifs.
Guests staying at the flats that have chosen the hotel service or have a paid card (available only in certain periods of the year) may have access to the pool.
Breakfast
A buffet style breakfast that includes a rich array of sweet and savory delicacies, with yogurt, cereal, fruit juices, croissants, homemade cakes, jams, fresh fruits and eggs. Hot beverages are served at the table.
Available for hotel and flat guests, if included in the rate.
Restaurant
The hotel restaurant's large, welcoming dining hall serves lunch and dinner with an à la carte menu and a rich buffet of salads and fresh vegetables, all provided daily from the local farmers' gardens. Special menus available for children.
Available for hotel and flat guests, if included in the rate or with an extra.
Sports
The area surrounding the Hotel Junior offers numerous opportunities for a dynamic outdoor holiday with a multitude of sports activities: inland tours on horseback or bicycle, canoeing and kayaking, tennis, windsurfing and catamaran (during the summer season), are just some of the many activities offered.
Biking
Splendid bike tours can are within access of the hotel, through the lagoon and winding along the local countryside. One of the most interesting trails is the itinerary running through the historic buildings spread out along the Cavallino-Treporti coastline, covering over two centuries of history (forts, watch towers, churches). The Hotel Junior provides bicycles free of charge to adults and children, including seats and helmets for toddlers (depending on availability).